Ferry Worker Injury Lawyers
Have you been injured while working on a ferry?
Ferry workers are unique in that most persons working aboard ferry vessels are working for a state and are, therefore, unique in their ability to pursue claims following maritime injury. Claims may need to be pursued in full awareness of the benefits and limitations of being a state employee ferry worker.
In addition to large state-run ferries, there are also many small, privately owned ferries that service the many outlying islands in Washington, Oregon, and Alaska. Injury At Sea has been involved in maritime injury cases involving privately-owned ferries. Private owners (such as maintenance associations) may not be fully aware of their obligations. The fact that a ferry is privately owned does not necessarily mean the injured worker is not entitled to the same benefits under federal law as a fully licensed or state-owned ferry.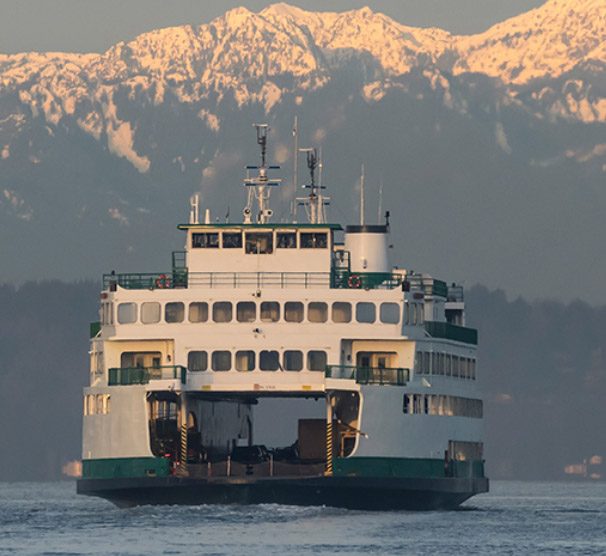 Who Qualifies as a Ferry Worker?
A ferry worker is any person employed, trained and skilled to work in various roles onboard a ferry, including:
Captains
Deckhands
Crew
Chiefs
Engineers
Communications Officers
Electricians
Cooks and Stewards
Maintenance Workers
Common Ferry Worker Injuries
Common causes of ferry worker injuries on the job include:
Vessel accidents
Hypothermia
Frostbite
Faulty or improperly maintained equipment
Slips and falls
Cargo accidents
Chemical injuries
Answered Live 24/7
by a Maritime Lawyer
Maritime Law and Compensation
Ferry workers are usually entitled to the full protections enumerated in the Jones Act and general maritime law. This may mean the ferry worker, whether they work on a state ferry or a privately owned ferry, may be entitled to recover for:
Lost earnings, including future lost earnings
Pain and suffering
Expense of retraining
Full medical benefits
Compensation for earnings due to the end of the worker's contract
Living expense(s) during medical treatment
Benefits Under the Jones Act
The Jones Act is one of the most comprehensive sources of maritime employee injury benefits, as it allows workers to collect maintenance and cure as well as the ability to file negligence and unseaworthiness claims against shipowners. Ferry workers may be covered under the Jones Act if they were injured while on a vessel which they had a standing work relationship. This may apply to a ferry worker who has been assigned to a vessel for a certain duration—such as a port-to-port journey—or only performs activities for one vessel in navigation.
Workers' Compensation Benefits
Ferry workers may be covered under the employer's workers' compensation coverage. This insurance is particularly useful to contracted seaman who suffer injuries during voyages or activities on land, which may be excepted under the Jones Act.
Benefits Under the Longshore and Harbor Workers Compensation Act (LHWCA)
Ferry workers who do not qualify for Jones Act benefits may be covered under the LHWCA, which provides wage replacement benefits based on the seaman's average weekly salary.
Benefits Under Maritime Law
Any person who suffers an injury at sea has right under general maritime laws, including the right to file lawsuits for products liability and wrongful death.
What should I do if I have been injured at sea?
First and foremost – seek medical attention. If you have been injured due to negligence, then get an experienced lawyer working on your injury case right away.
Injury At Sea maintains a staff of marine accident investigators with ties to maritime communities throughout the Pacific Northwest. We will start investigating your case right away. Moreover, we will fight to obtain the most you are allowed under maintenance and cure, which provides a stipend for you to survive while you are recuperating from your injury.
The attorneys of Injury At Sea can explain your best options if you were hurt working on a ferry. We can make sure you receive what you are entitled to under the law, including past and future medical bills, past and future wages, pain and suffering damages, physical disfigurement, and maintenance and cure payments.
Contact our maritime attorneys today and tell us your story. Our firm is located in Seattle and has more than 80 years of experience representing clients located in Washington, Oregon, Alaska, and California. Call us today for a no-obligation assessment of your case.
Total settlements paid for a vessel sinking.
$3 million verdict for a diver working on the 520 Bridge project who sustained a permanent back injury.  
$1.8 million in total settlements paid for 8 claims in the Alaska Ranger sinking.
$1.55 million settlement for the wrongful death of a seaman by a deck hand cable.
$1.5 million settlement for a fishing vessel deckhand who slipped and fell.
$1.5 million verdict for a deck hand that slipped and fell.
$1.15 million settlement for an abdomen injury occurring at sea.
$1.15 million settlement for a factory trawler worker who slipped and fell on the boat.
$1.1 million maritime settlement (with offset) for a seaman who fell into an open fish hold, injuring his neck, back, wrist, and shoulder, requiring surgery.
It's our name. It's our business. It's what we do. 
"Hiring Mr. Gooding was one of the best decisions I've made in my life. I was extremely impressed with his experience and knowledge at every stage of the proceedings. Mr. Gooding did his research and learned every little detail of my case. He was very passionate about his work. He took the extra time and effort to make sure everything was in order and correct. He also kept me informed of everything I needed to know and do to prepare for my case. James Gooding is a top-notch attorney. I highly recommend him to anyone in need of a personal injury attorney. I would higher him in a heartbeat if I was ever injured again. Thanks James for all your great work!!!"
"Injury At Sea knows the maritime business from all angles…easy to work with, hardworking, straightforward, and professional. I was treated with care and concern. They were very helpful in my situation, told me exactly what to do, what to expect and the likely outcome. Five Stars."
"Matt is smart, professional and was wonderful jumping in late in the case, getting ramped up quickly. He has the knowledge and patience explaining legal questions to me. Best think is he took the time to really listen to how this accident changed my life. He fought for me, my rights, and my recovery. I am truly grateful to Matt!"
"Melissa Westberg's patience, diligence and professionalism was outstanding, but I was particularly shocked by the amount of settlement she managed to get me. I knew I was facing a particularly harsh insurer, and I did not have a huge amount of evidence for my case. An asset to your firm and a pleasure to deal with, I will be recommending Melissa Westberg whenever possible."
"I just want to express my gratitude for your exquisite performance, research, and kindness over the last week. I truly felt that I was in good hands, and the outcome is proof of that! The last five years has been quite a journey, at times very dark, but today things feel brighter than ever. Thank you for shining a light on my story, for never wavering from your belief in me, and for 'bringing it home'. You, my friend, are the man. Thank you so very much."
"Having met with a few other attorneys who were honestly quite intimidating, I was very happy to find Sarah (I'm not from this country and was not prepared for the medical & legal processes!)! I felt like she genuinely cared about my recovery, and how I was progressing. My medical treatments took over a year, and the lengthy process of gathering statements and supporting docs, medical records, negotiating etc. meant that we were in contact for over 2 years! I was very happy with the amount we settled on after mediation. Great service, professional, compassionate, and won't settle for less than their clients deserve 🙂 Thank you!"
"…When they said they would not give John a liver transplant, my heart sank…for the first time in my life I hated being poor because I could not save my child. No one wants to lose a child. I sat in his hospital room and just looked at him and felt helpless that there was nothing I could do…When I was told Injury At Sea had obtained a Court Order to make the Company pay I cried tears of relief…without this my son would have had no hope of living… Thank you to Injury At Sea."
"Melissa right away came to meet us and gave us her undivided attention and was eager to hear what happened. She made the process easy and simple us to understand. During our case Melissa always stayed in contact. She was always available for any questions we had. The one thing that we really enjoyed and loved about Melissa was [that] she cared. That's the reason we referred Melissa to our son and anyone else they wants a attorney who cares for the people they are representing. Thank you Melissa for your time and a great job."
Click here to learn how to keep yourself and your loved ones safe while on the water this summer.